The Origin of the Tilson Trach Guard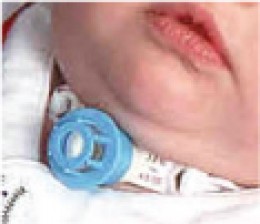 Meet Nick

We created the Tilson Trach Guard because of a little boy named Nick Tilson. In the summer of 1986, BMS President Kate Beevers was working in the pediatric intensive care unit at St. Luke's Hospital in Boise, Idaho when Nick first came to visit. He was about a year old and had been trach'd early on because of a congenital condition. He was getting more vigorous by the month; however he was plagued by periodic pulmonary problems that seemed to set him back. Because of his condition, his parents were constantly anxious and occasionally needed a day or two just for themselves. It was on such visit for respite care that he started this whole journey for all of us.

A Close Call

Because Nick was pretty vigorous, the PICU nurses put a blanket out in the nurses' station for him to play on and be with company. After a while, Nick grew tired and lay down peacefully for a nap. After a few minutes, the nurses were shocked when his oxygen monitor's alarm went off. With all these professionals literally inches away, Nick had occluded his trach opening and was quietly crashing. Of course, the nurses quickly resuscitated him, but the message was clear to Kate: if this could happen in an intensive care unit, with the best equipment and multiple, highly-trained care givers, what were the chances that this would happen at home? And, come to think of it, couldn't his chronic pulmonary problems have been caused or worsened by occasional episodes like this one?

The nurses soon started to put adapters and tee pieces on Nick's trach, but they all knew these were only makeshift solutions. Because of Nick's short neck and oversized head, these devices pushed his head into an unnatural position.

A Solution in the Making

Kate found some parts that were close to what she wanted, and asked me to adapt them in the machine shop. Nick's doctor was quick to approve using them on his patient in the hospital. When Nick was discharged, Kate had a freshly-made supply of them in her car – but the unit was too busy for her to go fetch them for Nick.

A couple of days later, she got the terrible news. Nick was back in the hospital after having a major hypoxic episode, which had caused severe damage. They stabilized Nick, but he was comatose and, after a brief stay at St. Luke's he was transferred to a long-term care facility. Of course, Nick had all the trach guards he needed now – but it was too late. Six months later, Nick passed away, never having regained consciousness.

Kate was devastated – she could have prevented this so easily. We couldn't let this happen again. So while Kate contacted other hospitals to assess the size of this problem and understand the clinical issues, I went to work on the design. Patent searches, government regulations, medical design standards – before I finished a workable, manufacturable design I learned about a whole new engineering discipline.

Our Namesake

Finally, we were ready for our approvals and we had one detail left to finish. What would we call this product? The choice was obvious. We couldn't save him, but we could honor him. So with his parents' permission, for the last 20 years Nick Tilson's sacrifice has purchased precious air and peace of mind for many thousands of other children and their families around the globe.

Back to Tilson Trach Guard